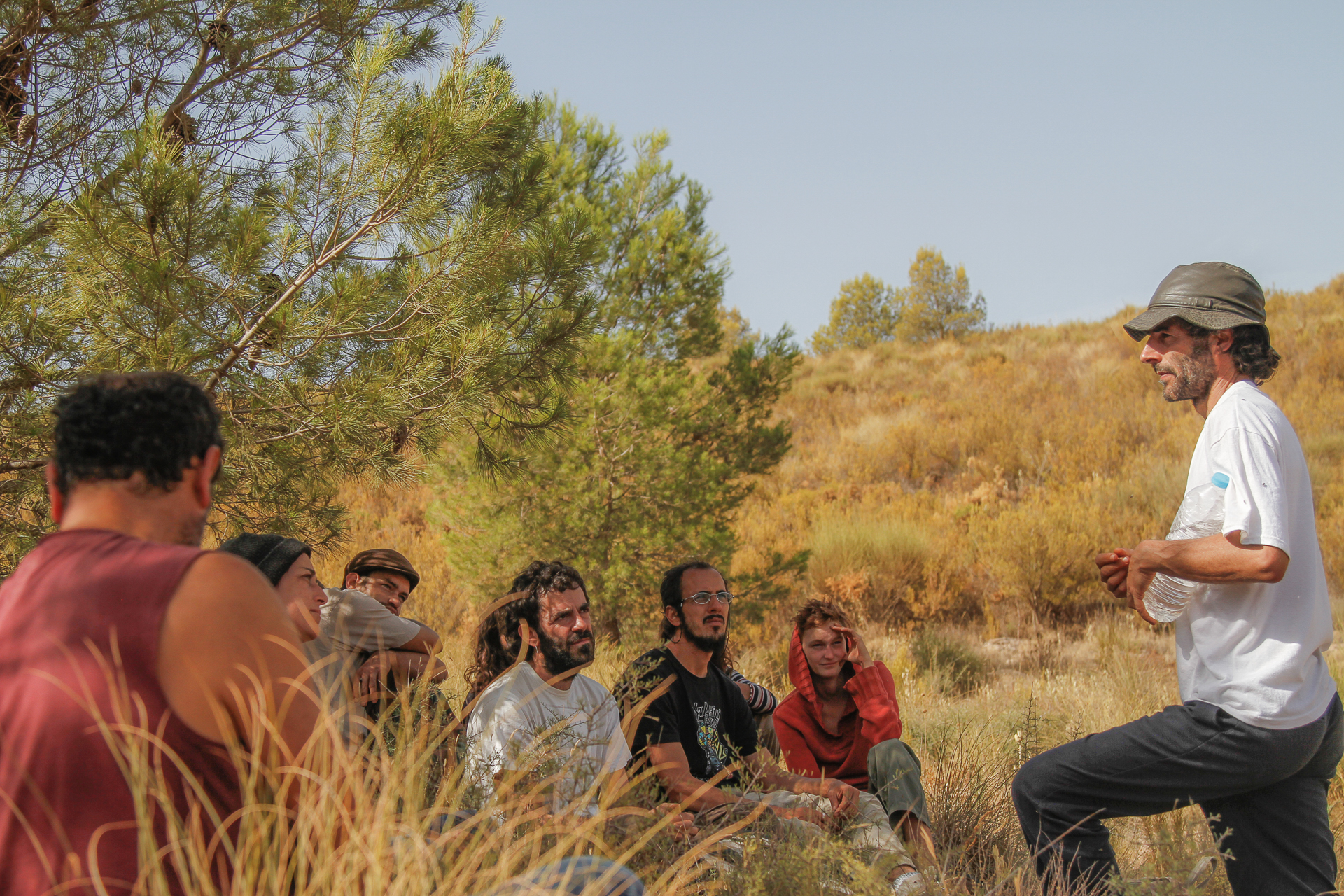 ESC European Volunteering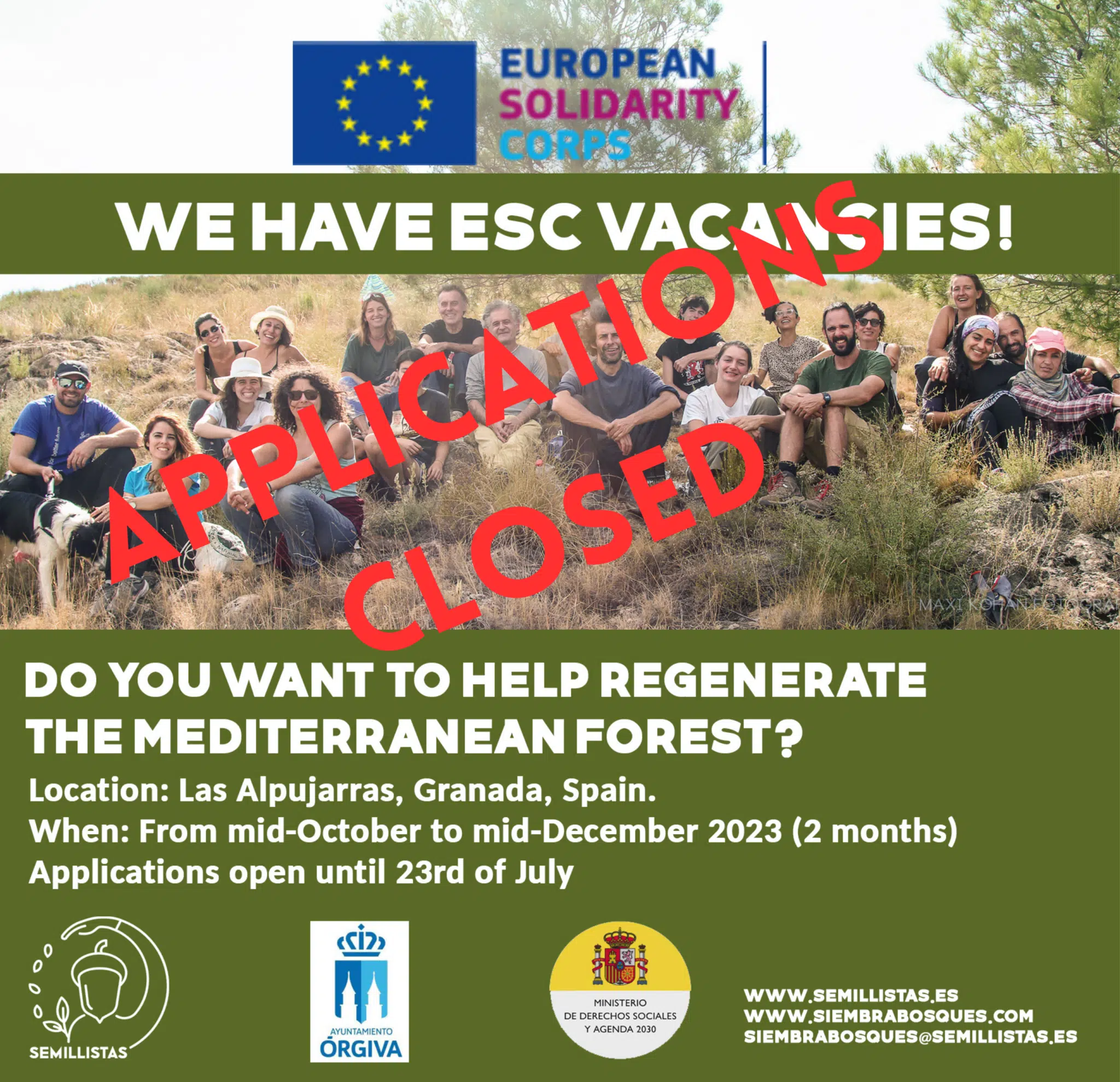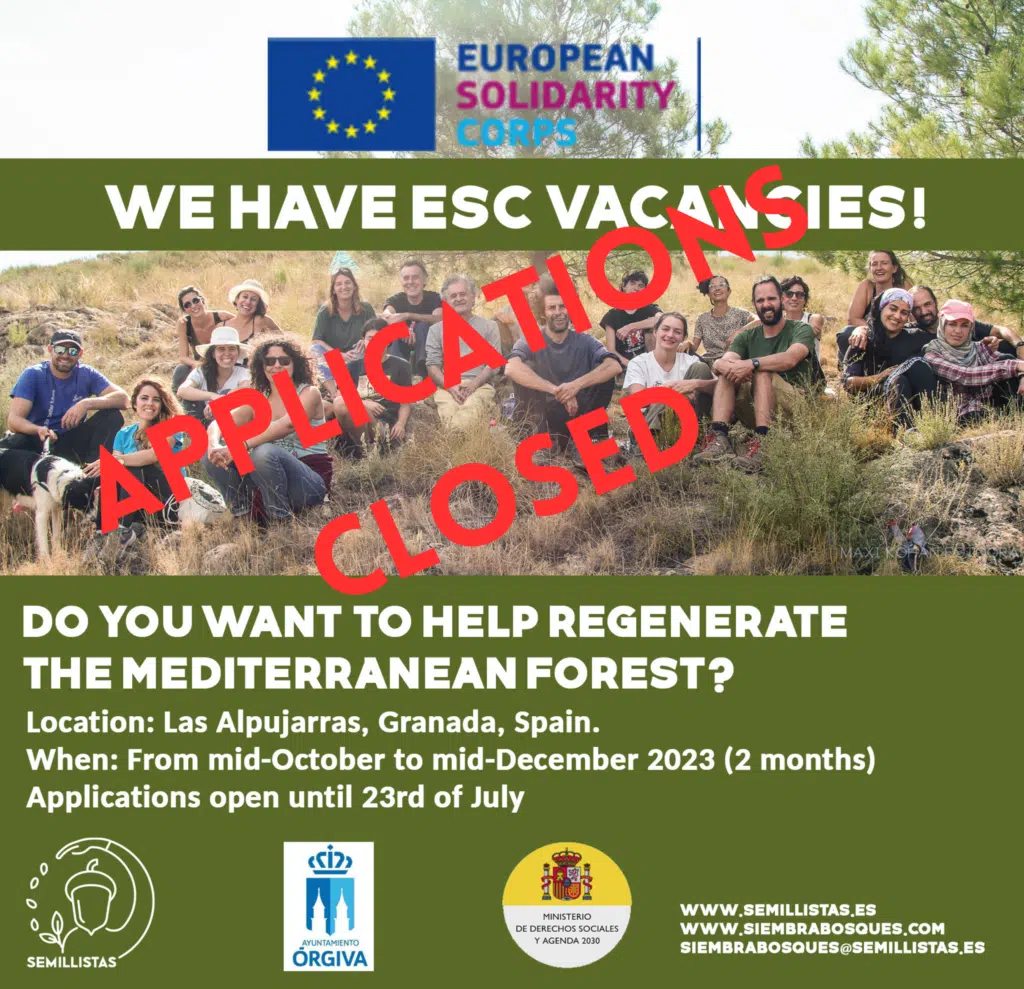 We have closed the reception of applications and are currently in the process of selection.
Please, if you are interested, be ready to send your applications next summer 2024, thank you.
The results of the selection process for this year 2023 will be communicated personally by mid-August.
Thank you all for your interest.
Call for participants ESC 
Where: Las Alpujarras, Granada, Spain. 
When: 59 day placement. October 22nd to December 21st. Short term placement 
What: Regenerating Sierra de Lujar 
Who: 15 motivated young people (18 to 30) who reside in program and partner countries. 4 of these places are available to volunteers on a national level (Spain) 
More information on program and partner countries can be found here: https://youth.europa.eu/solidarity/countries-covered_en 
Hosting Organisation: Asociación Semillistas (esc@semillistas.es ) 
DESCRIPTION of Organisation
Semillistas is a non-profit association working since 2018, located in the mountainous rural area of Granada – Las Alpujarras. The association's aim is eco-social regeneration with their main objectives being; 
EARTH CARE: to stop desertification and climate change through reforestation and regeneration of lands eroded by fires, human action and climate change while using innovative techniques of direct sowing of native forest species.
PEOPLE CARE: holistic care and promotion of mental and physical health of the volunteers and the general population. 
COMMUNITY CARE: promote a participatory, empowered, cohesive and resilient society that take care of their environment.
RURAL DEVELOPMENT: sustainable development and repopulation of
rural villages, creation of new economies, heritage conservation, cultural visibilization, maintenance and care of the land.
BIOTECHNOLOGICAL DEVELOPMENT IN OPEN SOURCE
Roles of Volunteers
Volunteers will be part of the ongoing investigation and establishment of regeneration through direct seed sowing. Volunteers will dedicate from 30 – 38 hours weekly to the project. These activities include 
Reforestation activities 4 mornings a week: planting seeds in Sierra Lujar, harvesting seeds, building seed protectors, creating and digging swales and survival counts of previous plantings. 

Participation in lectures and workshops once a week in the scope of sustainable lifestyle, regeneration, permaculture, water management, deep ecology, project design…etc. 

There will be an emphasis on self (health) care practices 4 days a week in the afternoon, as we see an important link between self care and care of the planet. This can include a physical activity such as yoga, qi gong…etc. In addition, once a month each volunteer will receive a body-care treatment which they can personally choose from a list of professional practitioners around Orgiva. 

Links to community care in which the volunteers will be guided by a coordinator in participating in co-living in the Alberque of Orgiva. This includes holding group meetings, organisation of the week, shared responsibilities such as cooking and cleaning, logistics, emotional circles, conflict management and participating in a sustainable lifestyle, learning how to minimise the impact on our environment. 

Each volunteer will have a mentor with which they can meet one afternoon a week to discuss the wellbeing, development and learning path. 

During the placement, the volunteers will have the opportunity to learn and practice Spanish as well as English. The OLS platform provided by the ESC will also facilitate the learning of these languages. 
TRAINING DURING THE ACTIVITY 
Knowledge in regenerating landscapes, skills in direct sowing techniques, community living precepts, cultural awareness, responsible consumption, ecology, permaculture, health, self care and body care, basic vegetarian cuisine
ACCOMODATION, TRANSPORT, FOOD
Travel costs to and from the destination will be covered by the ESC, we encourage volunteers to travel by land or more sustainable means as much as possible. Food and accommodation costs are also covered during your stay. Volunteers will be given a small allowance as monthly pocket money. 
Orgiva itself is a town of more than 50 nationalities with a lot of diversity of activities and culture of which we encourage the volunteers to benefit from during their free time on the weekend. 
Volunteers will be hosted in shared accommodation with the rest of the volunteers in the Albergue of Orgiva. The place is equipped with all that is needed (water, electricity, heating, furniture)
All meals will be cooked by the volunteers on a rotational basis and will be with a vegetarian focus. Vegetables and fruit will be bought at the market on Thursday in Orgiva also through a rotational basis. Meals will be eaten together. 
Transport to and from the Albergue to the site will be with electric bicycles provided by the association, with the option to go by car. Transport to and from the country of origin to the Alpujarras covered by the EU to a certain limit. We encourage green travelling, by sea or land.
PARTICIPANTS PROFILE 
Basic level of English and Spanish
Physically motivated – as the activities require strength and stamina to be up in the mountains on steep slopes and overgrown (prickly) areas. 
Motivation and Interest- in the topics of regeneration, eco-sustainability, environment, healthy lifestyle, personal development, interculturalism, community life.
Disposition to dialogue- among the participants, with organisations, with the mentors, with the rural area and with the host community
Flexibility, Adaptability, team work- willingness to participate in group dynamics for team cohesion and personal growth. 
In taking this short term ESC you are still compatible for long term placements. 
APPLICATION:
For more information about the project visit: www.semillistas.es, www.siembrabosques.es 
If you feel the call, we encourage you to read carefully all the detailed information of the project. 
Closing applications on 23rd of July 2023.
Aplicaciones para personas residentes en España abiertas 2 pazas hasta el 3 de Octubre. 
Aquí puedes rellenar el formulario para aplicar https://forms.gle/RQkNFhHk3rUnAuLL7